Couture Fashion for a Greece Destination Wedding or Event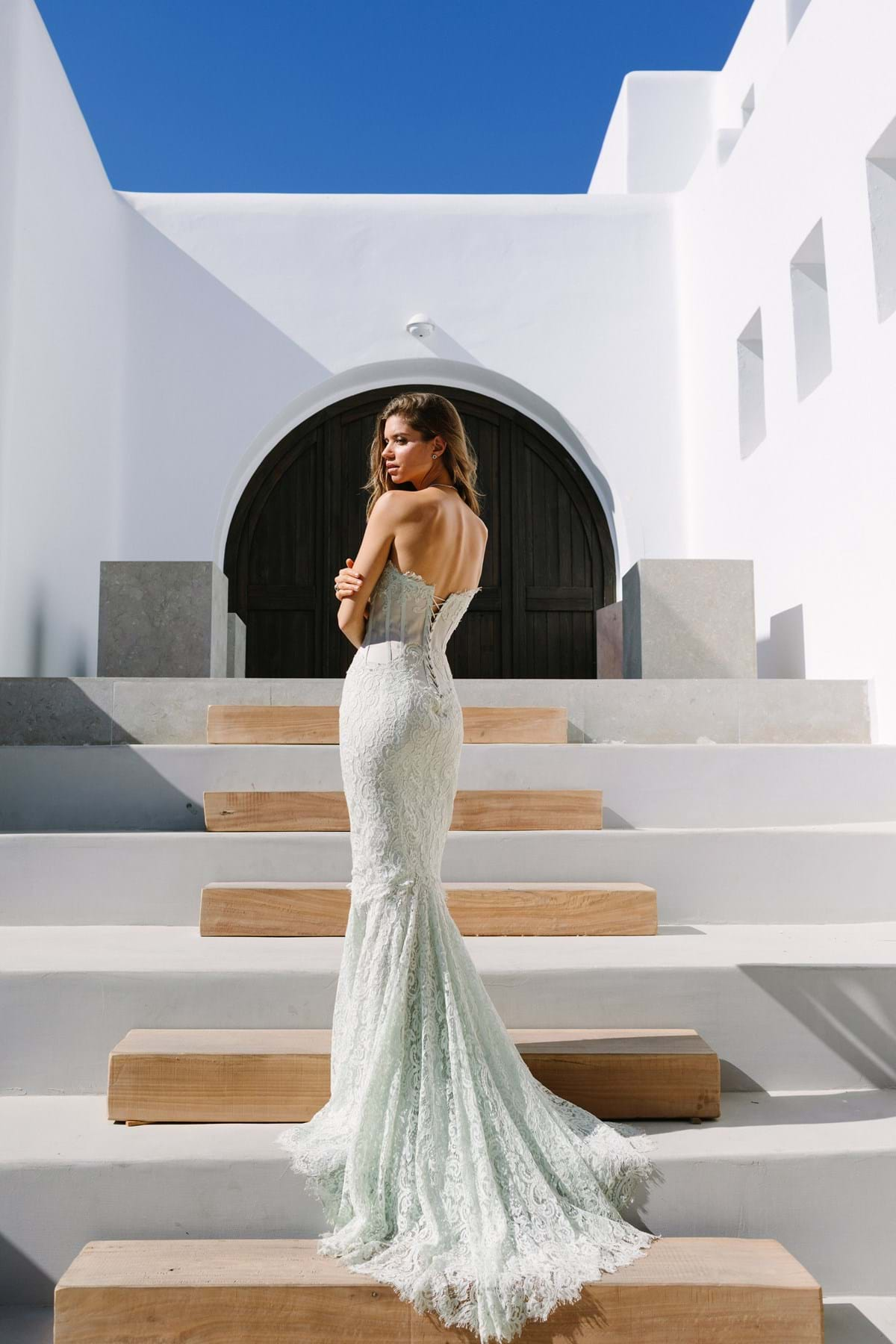 Some occasions call for a more one-of-a-kind, extraordinary look - and a luxury destination wedding or event in Greece is one of them.
Enter custom gown designer Suzie Turner.
Amidst the cosmopolitan, luscious and sunny vibe that is Mykonos, Turner's designs flourish against the perfect backdrop of this Aegean paradise.
Oh, what a vision Mykonos is! Cosmopolitan, luscious and sunny, this paradise of the Aegean is the perfect backdrop for the most spectacular spring and summer events! Conveying the style, elegance and poise of this beautiful island, the haute-couture creations of British designer Suzie Turner, captured through the lens of international photography Betsi Ewing, is just the inspiration you need for a red-carpet worthy look.
Like precious gems washed in by the sea and perfectly complemented by the natural surroundings and five-star locations of Mykonos, these ultimate fashion and style creations are accompanied by the most precious diamond jewelry by the house of Poniros. Old Hollywood glam is conveyed through a palette ranging from delicate nudes to wild green and mysterious black.
The Mint-Green Corded Lace, made from the most delicate French lace, creates a seductive mermaid silhouette highlighting the beautiful curves of the female body. This gorgeous creation can stand either as elegant formal wear or as a distinctive wedding gown, and it sure finds a spot in our hearts when photographed under the sparkling Mediterranean sunshine at Nammos Mykonos.
Chic and stylish, the silk lingerie dress is re-imagined in a beautiful powder pink tone and accompanied by a beaded cape - an ode to laid-back luxury from day to night with a feminine, carefree attitude.
Every modern fashionista's dream, a unique take on the shirt-over-dress trend, this full-beaded ivory blouse and sexy open-back silk number is taking our breath away! We imagine a cool Mykonos bride walking down the aisle on a sandy beach wearing this beauty!
For a show stopping effect, the stunning Emerald Coral with thousands of Swarovski beads sewn by hand, and a fine silk skirt, paired with the iconic shade of wine red lipstick, is a Master Class on timeless style.
And what is the ultimate statement look for shining through any glamorous celebration other than this bold and eclectic duo of a silk ball-gown, black paisley skirt and ink-black embellished blouse? 
Always stylish, always in vogue, this exclusive, couture designer leaves her mark on the island of dreams.
Keeping your eyes open for a talented custom gown designer for your upcoming destination wedding? Leave a comment below and we'll share a few of our favorite designers based on your style and taste.