Gorgeous Greece Destination Wedding Flower Inspiration for Every Style & Taste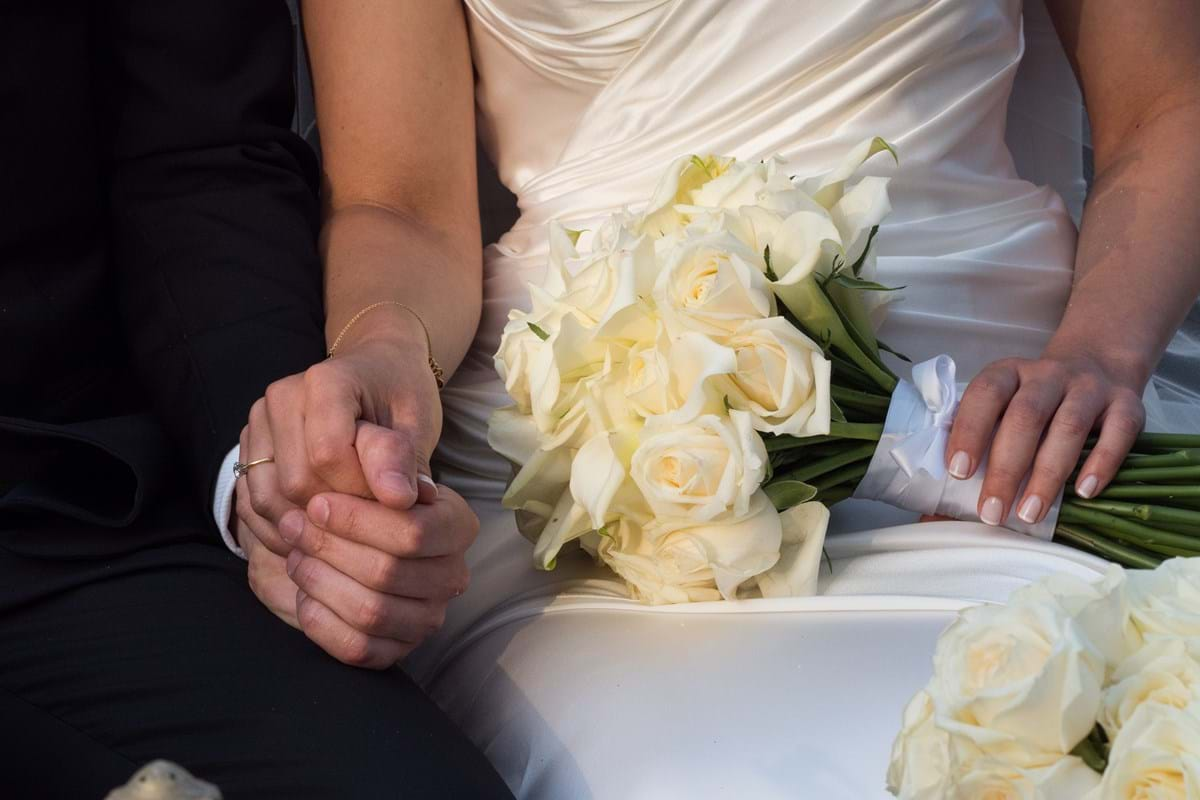 A symbol of new beginnings for centuries, a fresh bouquet of blooms instantly brings a feeling of renewal, formality and elegance to the bride's ensemble. As an exclusive event designer for distinctive destination weddings in Greece and Italy, we work closely with the finest local florists to gracefully combine the colors, textures, volumes and shapes of breathtaking floral varieties into masterful artwork, fully in tune with the style of your event, the location, your outfit and bridal style.
Monochrome Bouquets
For a pure, elegant effect of timeless beauty that compliments any gown style and looks effortlessly chic, a monochromatic bouquet is the way to go. This design style comes in a variety of floral arrangements and volumes, ranging from the classic and geometric calla lily and white roses minimalist composition to the bohemian and playful structure of white chrysanthemum, wild greenery and grey eucalyptus.
Pastel Florals
Pastel tones for your wedding florals are in vogue any time of the year, creating dreamy and romantic palette combinations, and a pale hued bouquet can add a subtle pop of color to your bridal look. Andrea chose hints of the palest peach infused in her David Austin and Avalanche roses bouquet, along with eucalyptus for her glamorous Mykonos wedding. Our ethereal bride chose pale rose and white peonies for her Elafonisos island wedding.
A Waterfall of Orchids
Cascading orchids, the trademark royal flower, in white with pink notes created a unique and dramatic bridal bouquet, perfect for the cosmopolitan wedding event in Greece. For her wedding in Athens, stylish fashionista Katerina walked down the aisle holding a free-structure arrangement with bohemian-chic inspired blooms like chrysanthemum, peonies and cascading greenery in golden coral and dusty pink tones.
Vibrant Blooms
For the brides who need an extra shot of vibrant color in their bridal look and want to incorporate their favorite hues in their wedding bouquet, there is no shortage of vividly colored blooms to match every style and mood! The bouquet can also be a statement of your culture and tradition for your Santorini weddings!
A bride's Chinese heritage was honored in the form of a bright red roses and blush pink peonies bouquet infused with dianthus pink, glorioza red, light pink astilbe and David Austin vuvuzela roses. For Indian bride Arti, a sunny yellow, pink and lavender arrangement paid homage to her culture and traditions.
Rustic Elegance
Green, purple and magenta tones of lavender, Limonium, and chrysanthemum offer a new, cheerful take on the rustic-chic bouquet style of wildflowers to match our bride's sparkling personality for a unique Athens wedding!
Timeless Roses
And who says a timeless bouquet shape cannot get a contemporary makeover? This boule shaped  bouquet of avalanche, David Austin roses and blush pink carnations tells a different story, featuring stunning pink, nude and cherry tones.
Whichever style and flower combination best suits your bridal dreams, your bouquet will be only the first touch of spring bliss to your new beginning!
Your ideas plus our artistic vision equals jaw-dropping wedding flowers. Let Mitheo Events showcase your unique style through our floral design. Whether you're getting married in Italy or Greece, we invite you to reach out to us today to start imagining a breathtaking destination wedding design.