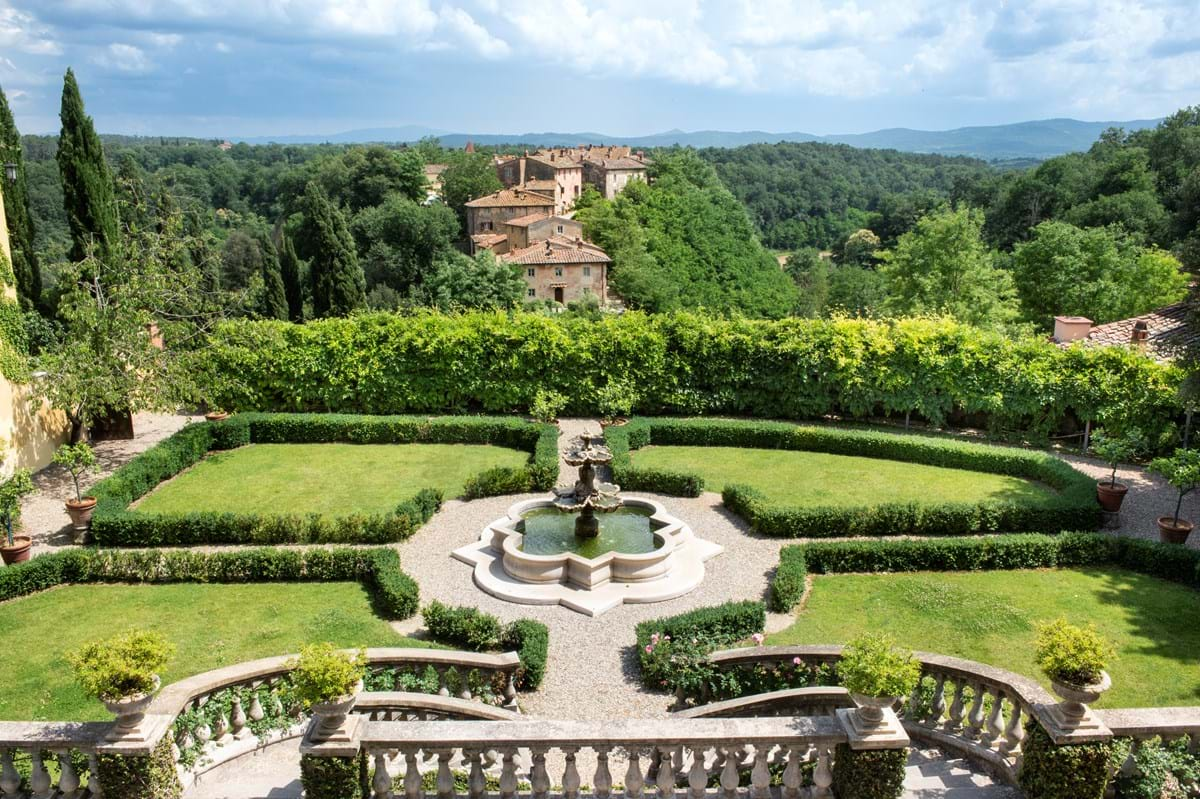 The Il Borro Wedding Experience - An Authentic, Luxurious Tuscan Escape
When looking for a unique, authentic Italian destination for your wedding or private event, Tuscany immediately comes to mind. With its rich culture, long history and stunningly beautiful surroundings, this Italian region offers you and your guests the destination event experience of a lifetime. 
And the spectacular Il Borro Estate would be one of the most distinguished and characteristic Tuscany venues at which to host your luxury wedding or event.
Il Borro Wedding Venues in Tuscany
This exclusive Relais and Chateaux five star medieval village and villas offer the most spectacular views of the Tuscan countryside due to its elevated position. The enormous property features fascinating locations for any high class wedding celebration, private event or party; whether at the famous lush organic gardens, the private villa Dimora Il Borro, or the picturesque piazza. All allow for event concepts ranging from lavish, luxurious productions, to warm and fresh al fresco dinner parties and everything in between.
The property's unwavering commitment to world-class hospitality, dedicated guest Concierge, rich authentic Tuscan in-house catering and amenities, make it one of the finest establishments in Tuscany to host an opulent private affair.
Dimora Il Borro Historic Villa
Located at the center of the Estate, the imposing and enchanting Dimora Il Borro stands above the medieval village that seems straight out of an Italian fairytale. The villa was built in the 19th century by the Hohenlohe Waldenburg family and came into possession of Ferruccio Ferragamo in 1993. It has been owned by the Ferragamo family ever since and it has been restored with great care to demonstrate the charm and poise of the traditional Tuscan villas along with luxurious amenities and striking aesthetics. With spectacular surrounding areas and luscious gardens, the Dimora villa can accommodate both outdoor and indoor weddings and events, making it the perfect venue for a an exclusive celebration in any season.
Il Borro Farmhouse & Country Villas
The villa is only one of the options for five-star accommodation. If you seek an archetypal Italian experience with a catholic wedding ceremony, followed by an intimate family dinner under the stars and dancing till the morning hours, then the Medieval village and traditional suites are the perfect alternative for an unforgettable celebration you and your guests will cherish forever. With charming, rustic flair, these additional properties provide ample choice to host either an intimate or grand celebration.
Il Borro Activities
The scenic landscapes and deluxe accommodations are only the beginning of the Il Borro experience.
Housing one of the oldest cellars in Italy where the Chianti wine was first produced, Il Borro offers wine and art gallery tours and tastings for you and your guests to discover the magic and art of Tuscany's wine making traditions.
Indulge your guests in fine Tuscan bistro at one of the property's fine dining options on site, explore the country grounds on horseback, relax with yoga or a massage at the Spa Suite, unwind with a round of golf or tennis and visit talented artisan workshops in the village. Whatever your pleasure, this expansive estate can provide.
Click here to view a themed 20's era party we planned at Il Borro which was inspired by the murder at the Orient Express….. or the al fresco …
Are you interested in getting married in Tuscany? Want to learn more about Il Borro? Connect with us today to start imagining your own Tuscan wedding or event.